St Petersburg University has launched the 20th International Student Law Conference 'iSLaCo-2021′. It has brought together more than 400 participants: renowned legal practitioners, academics, young researchers and students from Russia. The result of the online format is that they are from around the world: China, the USA, the Netherlands, Serbia, Indonesia, the UK, the Philippines and many other countries.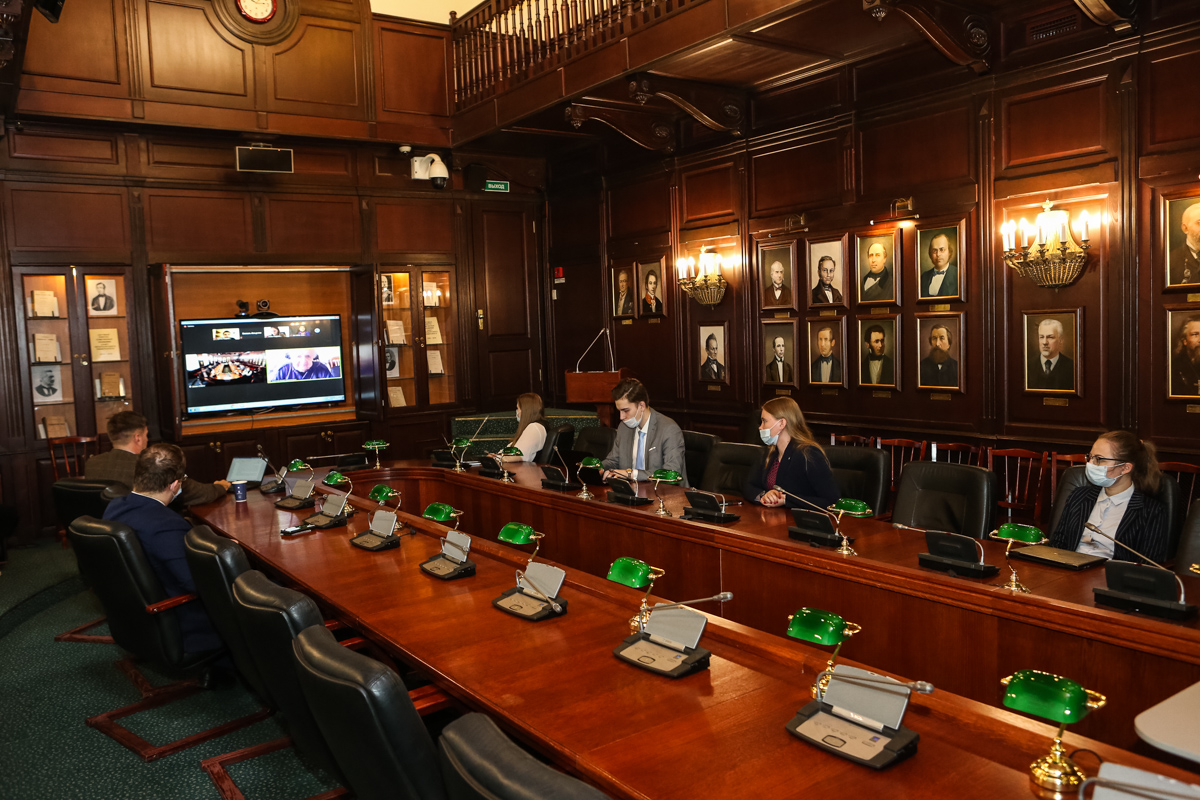 The conference was opened by Sergei Belov, Dean of the Faculty of Law at St Petersburg University. He stressed that the University had always cared about academic research. Holding conferences for students has been a long standing tradition that originated back at Leningrad State University. St Petersburg University has successfully continued this tradition.
The iSLaCo conference is an opportunity for young scholars to exchange views and engage with the world's leading academic schools, primarily, but not only, the law school of St Petersburg University and its partner universities.

Sergei Belov, Dean of the Faculty of Law at St Petersburg University
This year's programme includes lectures and master classes by leading Russian and foreign lawyers, including Member of the Russian Academy of Sciences Yuri Tolstoy, Emeritus Professor of St Petersburg University and Presidential Plenipotentiary in the Constitutional Court of the Russian Federation Aleksandr Konovalov, internationally renowned copyright expert and the Roy L Furman Professor of Law and Leadership at Harvard Law School Lawrence Lessig, Professor Emmanuel Menegatti of Bologna University, and Professor of St Petersburg University and Associate Professor of the University of Milano-Bicocca Benedetta Ubertazzi.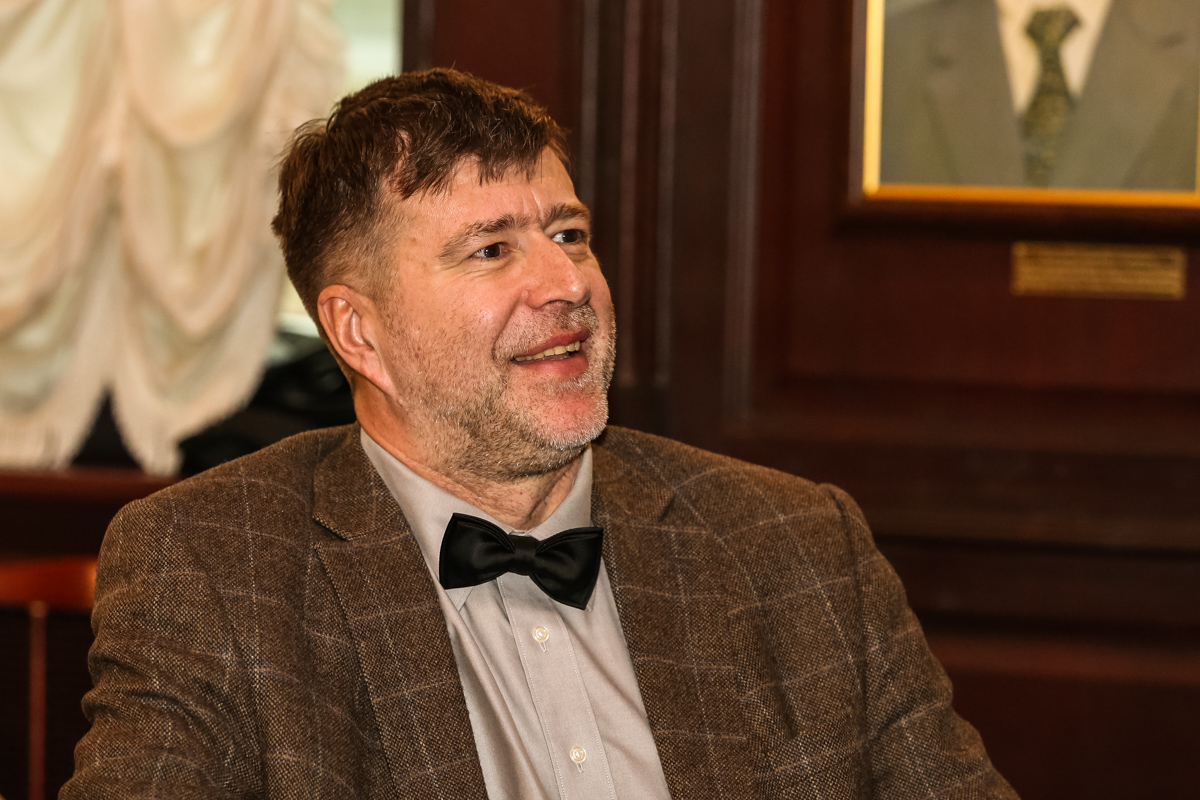 The main focus of this year's conference was: the changes in the legal system brought about by the coronavirus pandemic; the rapid development of technology and its impact on the legal profession; the protection of cultural heritage; environmental law; and the development of intellectual property law.
At a master class given by Yuri Tolstoy and Aleksandr Konovalov, the academics discussed the problems of improving civil and related sectors of legislation. According to the academician, the problems of codification began back in the 1990s, when the country was undergoing profound changes — both political, economic and legal. Some problems persist today, such as complex rules that are beyond the comprehension of members of the public. 'In fact, law enforcers sometimes have disputes about how to apply a particular rule of law as well,' said Yuri Tolstoy. Aleksandr Konovalov illustrated this by asking participants of the conference to count how long it would take him to pronounce the title of an order of one of the ministries aloud. The title contained 162 words, excluding prepositions, and took a minute and a half to read.
'In recent years, the state of Russian legislation and the practice of domestic law-making have been quite actively criticised, and often with a good reason,' said Aleksandr Konovalov. 'The law-making mechanism causes a lot of concern — the regulator's approaches to social relations are changing too frequently and too radically.'

Aleksandr Konovalov, Presidential Plenipotentiary in the Constitutional Court of the Russian Federation
Other problems include: hasty or unsystematic responses by lawmakers to social problems; the creation of laws that do not work or are not necessary; and poor law-making practices.
In an effort to tackle the problem of over-regulation, Russia initiated a 'regulatory guillotine'. As a result of the reform, about 12,000 regulatory acts were abolished. These were outdated regulations dating back to the Soviet Union, or containing mutually contradictory modern norms. Academics from St Petersburg University also contributed to the expert work on the reform. Such optimisation does not affect the essence of legal relations, it only improves the quality of legal documents. Aleksandr Konovalov remarked: 'The quality of law inevitably increases the legal protection of citizens and therefore improves the quality of life'.
The master class on legal design tackled the issue of bringing citizens and legal institutions closer together and improving legal practices. Mikhail Kochkin, founder of the BeSavvy educational project, explained that legal design is a method of applying the principles of design thinking. It is an attempt to make legal products, services and processes more convenient and understandable for the client and beneficial for the lawyer.
'Legal language is not the easiest for an average citizen who needs to solve routine legal problems. To read and understand a loan agreement, consent for the processing of personal data, medical consent, and hundreds of other documents, requires more than just common knowledge and understanding. Legal design aims to meet the needs of clients by simplifying documents and communication, and shortening the distance between them and companies. This is achieved not only by amending texts but also through visual design and clear client-oriented logistics.
Research shows that customer-friendly legal practices are also beneficial for the firms that adopt them. People are willing to have these companies handle their problems, placing more trust in them.
Another area actively developing in Russia today is legal tech. Holger Zscheyge, Managing Director of the legal publishing house Infotropic Media and President of the European Legal Technology Association, pointed out that law is an industry that has always been considered conservative and distant from digitisation. Experts estimate that only 0.3% of revenue in the legal industry is spent on the acquisition and implementation of technologies. 'The need, of course, is at least ten times as much, and the industry has great prospects,' said Mr Zscheyge. Until recently, the legal profession was limited to electronic helpdesk systems. However, today, there is a rise of: model document constructors; chatbots answering legal questions from citizens; planners; automation and electronic document management systems; tools for dealing with large volumes of data and court decisions, for example, blockchain technology for concluding smart contracts; and many more technologies.
Research conducted a few years ago, showed that about 23% of a lawyer's work could be automated. Today, according to Holger Zscheyge, this figure has already risen to 35%, which means that if you innovate, you can improve business efficiency by a quarter. When translated into monetary terms, this means that if the five largest law firms were to drop external consultants and replace them with software, they would save about $225 million a year. 'Obviously, the biggest threat to lawyers is their own resistance to innovation,' concluded the speaker.
The experts observe that legal tech is not a step towards reforming the labour market and is not a harbinger of replacing lawyers with 'robots'. Instead it is a restructuring of processes within the legal business, simplifying and accelerating routine processes, increasing work efficiency and, consequently, profits. Moreover, in the long run, it will create new professions, new employers and, hence, new career opportunities.