The ceremony of signing a partnership agreement between St Petersburg University and Rosenergoatom Joint-Stock Company took place at the 5th St Petersburg International Labour Forum.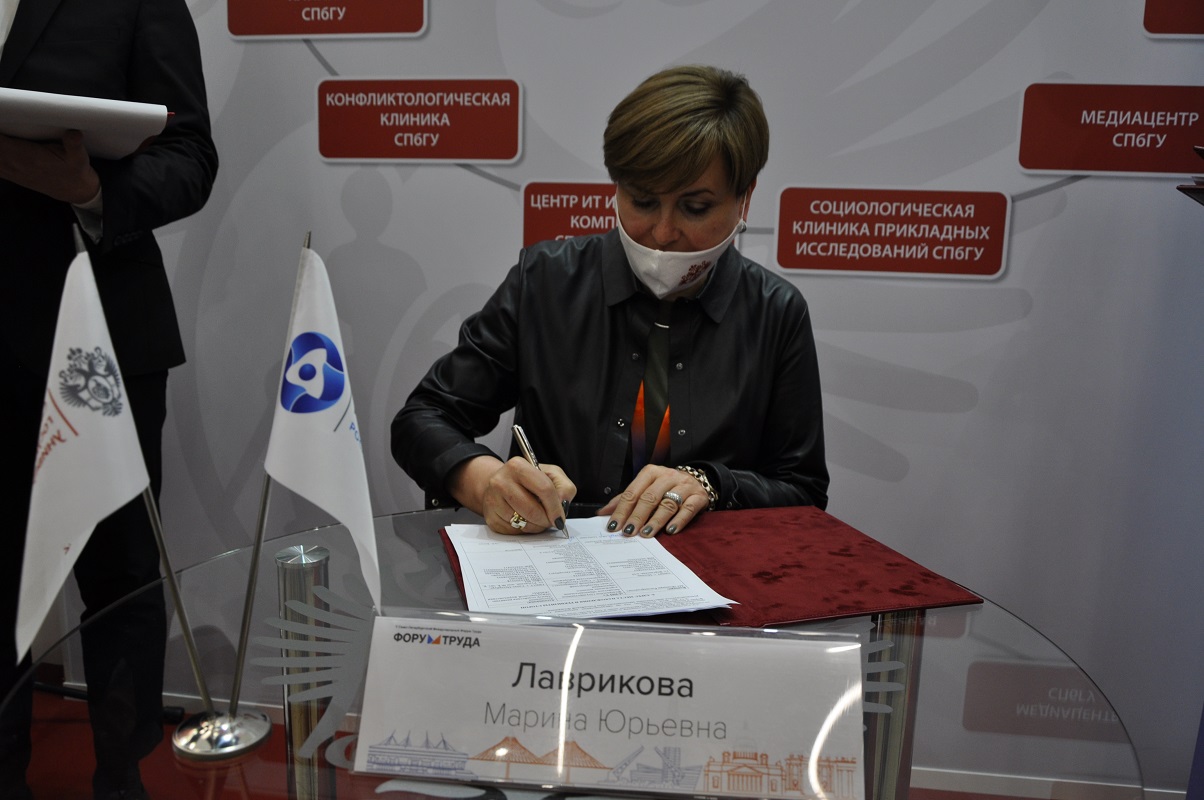 Rosenergoatom is the main Russian company in the field of nuclear energy. The agreement implies that it will be the first contractor of the Clinic for Communication Projects at St Petersburg University and later will become an employer of the graduates.
Marina Lavrikova, Senior Vice-Rector for Academic Activities and Teaching Methods, emphasised how important it is to open a new clinic at the University. 'St Petersburg University was the first to introduce the format of clinics. Today, clinics are considered to be one of the most effective methods of training professional skills with the involvement of potential employers,' Marina Lavrikova added. Also, she pointed out that an agreement with this company is not the first for the University. St Petersburg University is a basic university of the company. Together with Rosatom and National Research Center 'Kurchatov Institute' it realises the master's programme 'Condensed Matter Physics at MEGA-Science Facilities' that trains nuclear physicists.
Jumberi Tkebuchava, First Deputy General Director for Corporate Functions of Rosenergoatom Joint-Stock Company, said that the agreement opens wide perspectives for both sides. 'Due to technological progress, we pay special attention to staff acquisition. High-skilled specialists guarantee efficient work of the nuclear power station,' Jumberi Tkebuchava said. 'Today we are signing an agreement with the leading university of the country that trains experts in the field of communications'.
This agreement is our first experience. Like the proverb says 'slow and steady wins the race'. And the race with such a partner as St Petersburg University must be easy and interesting. It is time-tested.

Jumberi Tkebuchava, First Deputy General Director for Corporate Functions of Rosenergoatom Joint-Stock Company
Answering the question why the nuclear industry attaches a great importance to communications, Andrey Timonov, Director of the Department of Communications at Rosenergoatom gave two reasons. First, the nuclear industry in Russia depends on public opinion more than any other branch. Second, Rosatom focuses on a high-tech market not only in nuclear, but also in other spheres, for example, in the production of isotopes, data processing and cyber technologies. This is why the organisation is interested in training journalists capable of writing on such topics.
Andrey Timonov said that the agreement will encourage training not only of press officers of the company, but also journalists who specialise in writing about hi-tech.
Andrey Timonov held a master class 'Interesting behaviour studies: who is needed and who is not?' for all the guests of the Labour Forum.